Every year, the Solar Energy Industries Association (SEIA) partners up with energy research firm, Wood Mackenzie, to produce a comprehensive report on the state of the solar industry.

This year's report was just released last week and, if we had to sum up its findings in one word, it would have to be "booming."
Decade of massive growth

Thanks to increased panel efficiency, declining production costs, and some very generous government incentives, a simple rooftop solar system can now deliver energy at a lower average price than what utility companies are charging.
The result has been a decade of unprecedented expansion, with the solar industry achieving an average growth rate of 24%.

All told, the US now has over 155 gigawatts (GW) of installed solar capacity. That's enough to power 27 million homes or almost 20% of the total number of households in the US.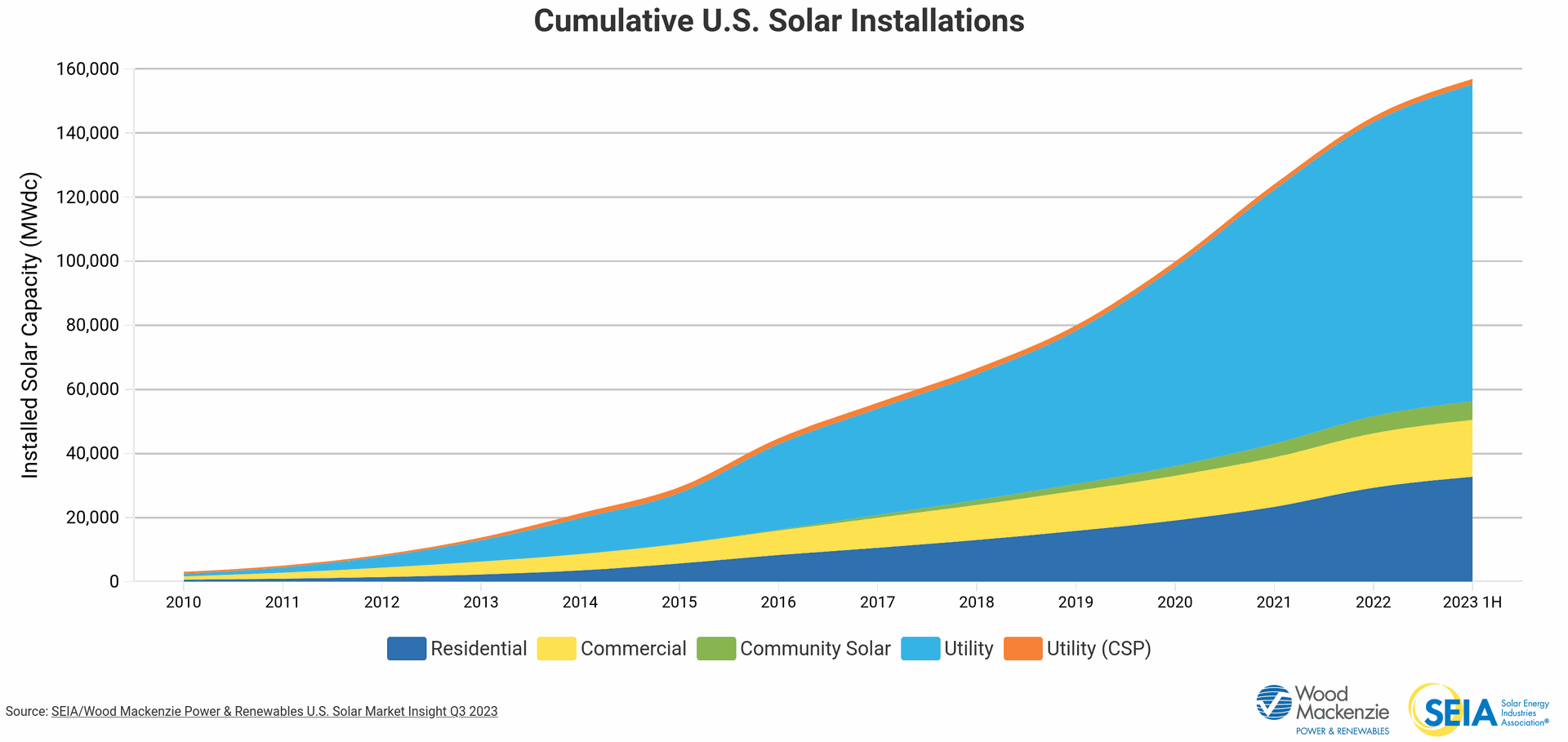 A powerful engine of economic growth

Providing homeowners and small businesses a way to spend less money on energy each month is a great thing. Nobody's going to argue with that.
But it turns out that solar power benefits our economy in some other equally important ways as well.
By the end of last year, for instance:

The number of solar equipment companies in the US exceeded 10,000.


The solar industry generated nearly $35 billion of private investment in our national economy.


All told, by the end of 2022 over 263,000 Americans had found gainful employment in the solar industry—virtually all of them in jobs that didn't even exist 20 years ago.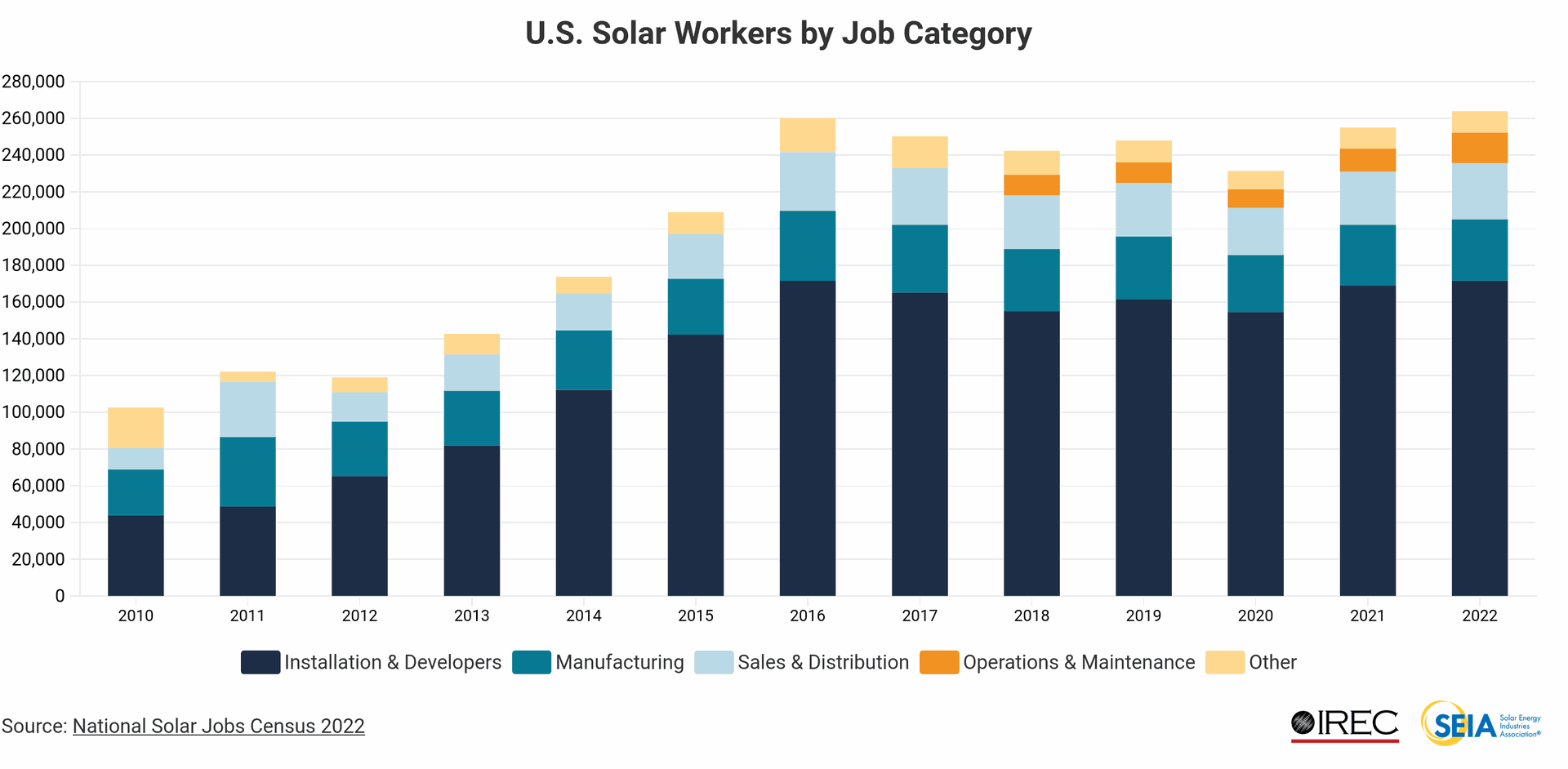 Falling prices
One of the biggest factors driving the solar industry's phenomenal growth has been declining prices.

The overall cost of installing a solar system decreased by more than 40% over the last decade. In practical terms, that means average installation costs, which stood at $40,000 in 2010, have gone down to around $25,000.
And keep in mind, that's before factoring in any government incentives like the Solar Investment Tax Credit, which allows you to deduct 30% of the full cost of going solar (including any taxes and fees) from your federal income tax bill.
A 50-state market
20 years ago—before declining prices and increased panel efficiency made solar power a way to save money, sunny states like California and Arizona completely dominated what little market there was.
Fast forward to today, however, and you'll find a healthy market for solar power in all fifty states. By way of perspective, at the end of 2022, only three states had 1 GW or more of installed solar capacity. Whereas, today, a full 25 US states have reached that milestone, with the rest rapidly catching up.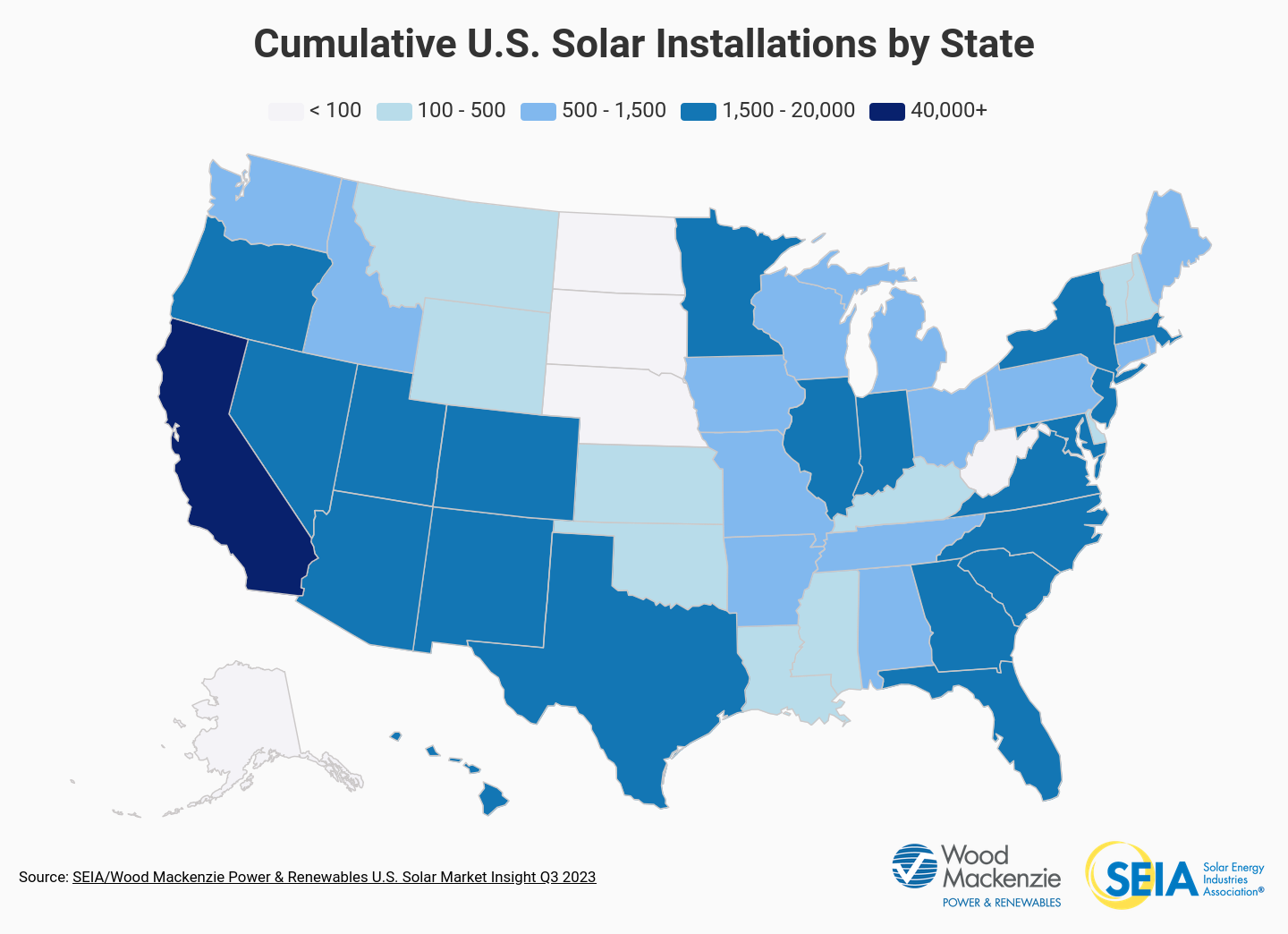 Growth forecast
Thanks to the supply chain woes that hit our global economy in 2021, the growth of the solar industry slowed down a bit last year, with annual deployment down by around 13%.
But things are looking up. The analysts at SEIA and Wood Mackenzie expect a full rebound this year. Recovery was already significant enough in the first half of 2023 to put the solar industry on track for another record-breaking year, with over 30 GW of newly installed solar capacity.